Welcome! Bienvenue à tous!
District Conference: 18th-20th April, 2024
Conférence de district: 18th-20th avril, 2024
District Conference Chair Welcome
Accueil Par Le Président De La Conférence De District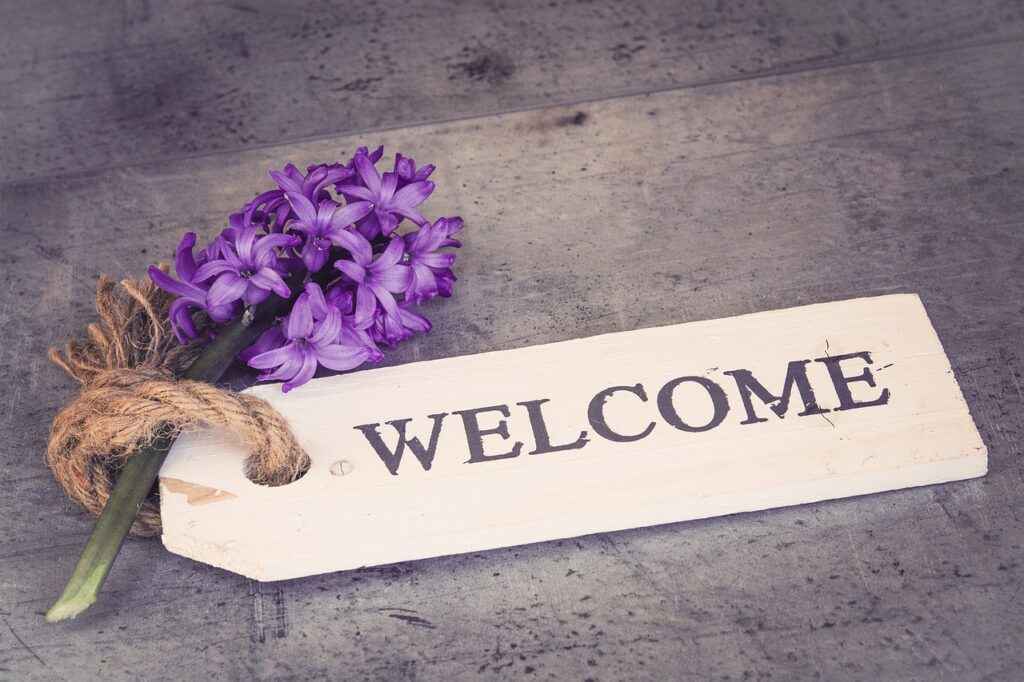 My fellow Rotarians, families, and guests, as we progress in the 2023/2024 journey to create hope in the world, on behalf of the conference team, I cordially invite you to the 2024 District 7030 Conference that will take place in St. Vincent and the Grenadines in April 2024.
SVG, known for being the Gem of the Antilles, is a land of unique tradition and culture. We want all of you to enjoy the warm Vincentian hospitality with varied opportunities that span from its emerging economy, opening for external investment to linking entrepreneurs and beyond. Experience 32 islands and cays of breathtaking sites made that much more flavorful with the mouthwatering Vincentian delicacies. You will meet old friends and make new ones.
Let's march together as we journey together to create hope in the world. We can't wait to welcome you to SVG!
Chers amis Rotariens, familles et invités, alors que nous progressons dans le voyage 2023/2024 pour créer de l'espoir dans le monde, au nom de l'Equipe Conférence du District, je vous invite cordialement à la Conférence 2024 du District 7030 qui se tiendra à Saint-Vincent-et-les-Grenadines en avril 2024.
SVG, connue pour être le joyau des Antilles, est une terre aux traditions et à la culture unique. Nous souhaitons que vous profitiez tous de la chaleureuse hospitalité vincentienne et des diverses opportunités qui s'offrent à vous, qu'il s'agisse de son économie émergente, de son ouverture aux investissements extérieurs, de la mise en relation d'entrepreneurs ou d'autres choses encore. Découvrez 32 îles et cayes aux sites époustouflants, rendus encore plus savoureux par les délicieuses spécialités vincentiennes. Vous rencontrerez de vieux amis et vous vous en ferez de nouveaux.
Marchons ensemble pour créer de l'espoir dans le monde. Nous sommes impatients de vous accueillir à SVG!
Discover SVG in 30 seconds! Découvrez SVG en 30 secondes!
Meet our District Governor- Brian Glasgow!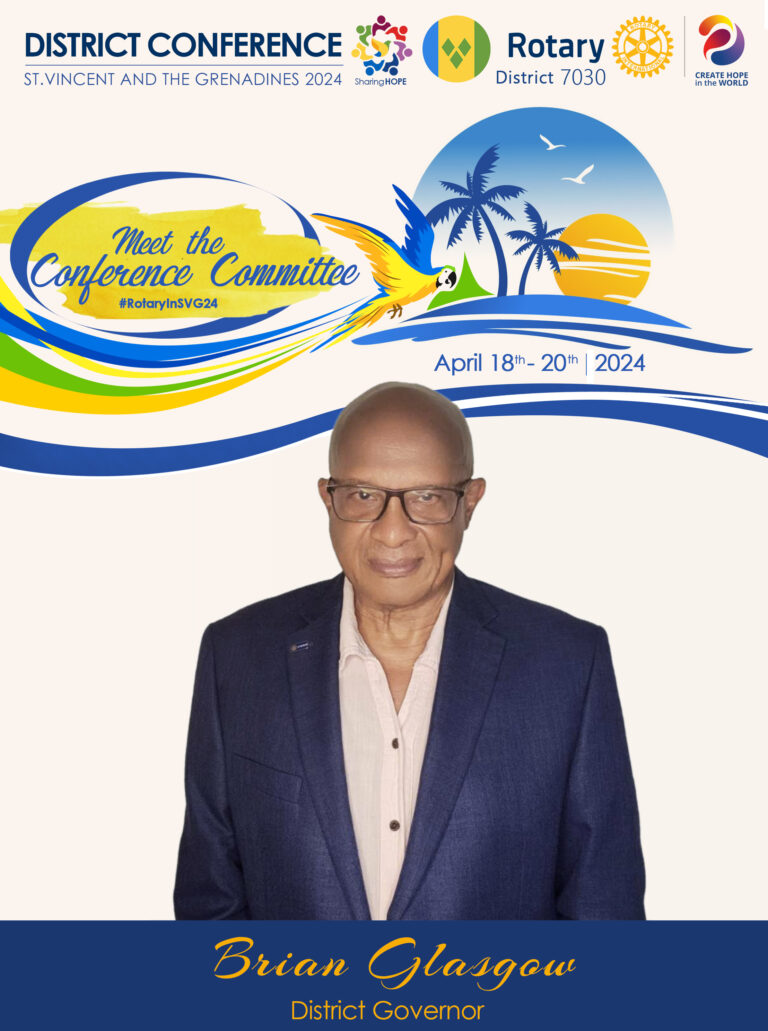 Message from District Governor, Brian Glasgow
Dear Rotarians, partners-in-service, and friends of Rotary District 7030,
I am thrilled that, for the first time in our District's history, the annual District Conference will be hosted in the beautiful setting of St. Vincent and the Grenadines. This event holds great significance for us, and it provides an opportunity for our entire Rotary family to come together and celebrate the spirit of service, diversity, and fellowship that defines us.
Our District is known for its incredible diversity, and I am certain that this year's conference will be a true reflection of the unity that comes from embracing our differences. Under the theme "Sharing Hope With the World," we aim to showcase the collective impact we can make when we collaborate for positive change. I eagerly await the chance to welcome Rotarians, partners-in-service, and friends from all corners of our district, as we join hands to inspire, learn, and plan for a brighter future together.
Beyond being a traditional conference, District Conference 2024 promises to be a transformative experience. Our dedicated team has curated an immersive cultural and historical journey that will allow you to discover the gems of the Antilles. From the enchanting La Soufriere mountains to the breathtaking shores connecting our numerous islands and cays, you will have the opportunity to create lasting memories and connections that will extend far beyond the event itself.
I extend a warm invitation on behalf of our esteemed Conference Committee for you to register for the 2024 Rotary District 7030 Conference. Your participation will not only contribute to the success of the event but also enable us to strengthen the bonds that unite us as a Rotary family. I encourage you to share this invitation with your fellow club members, urging them to seize this chance to be a part of something truly extraordinary.
As we count down the days to this remarkable occasion, let us embrace the spirit of unity, hope, and service that Rotary embodies. Together, we will make District Conference 2024 a celebration of our collective efforts and an opportunity to chart a course toward an even brighter future.
Yours in Rotary,
Brian A Glasgow
District Governor, Rotary District 7030
Message du Gouverneur de District, Brian Glasgow
Chers Rotariens, conjoints et amis du District 7030, 
Je suis ravi que, pour la première fois dans l'histoire de notre District, la Conférence annuelle de District se tienne dans le cadre magnifique de Saint-Vincent-et-les-Grenadines. Cet événement revêt une grande importance pour nous et donne l'occasion à toute la famille rotarienne de se réunir et de célébrer l'esprit de service, de diversité et de camaraderie qui nous caractérise.
Notre District est connu pour son incroyable diversité, et je suis certain que la conférence de cette année sera un véritable reflet de l'unité qui naît de l'acceptation de nos différences. Sous le thème "Partager l'Espoir Avec le Monde", nous visons à montrer l'impact collectif que nous pouvons avoir lorsque nous collaborons pour un changement positif. J'attends avec impatience l'occasion d'accueillir des Rotariens, des conjoints et des amis de tous les coins de notre district, alors que nous nous donnons la main pour inspirer, apprendre et planifier ensemble un avenir meilleur.
Au-delà d'une conférence traditionnelle, la Conférence de District 2024 promet d'être une expérience riche en transformations. Notre équipe dévouée a conçu un voyage culturel et historique immersif qui vous permettra de découvrir les joyaux des Antilles. Des montagnes enchanteresses de La Soufrière aux rivages époustouflants reliant nos nombreuses îles et cayes, vous aurez l'occasion de créer des souvenirs et des liens durables qui se prolongeront bien au-delà de l'événement lui-même.
Au nom de notre estimée Commission Conférence, je vous invite chaleureusement à vous inscrire à la Conférence 2024 du District 7030 du Rotary. Votre participation contribuera non seulement au succès de l'événement mais nous permettra également de renforcer les liens qui nous unissent en tant que famille rotarienne. Je vous encourage à partager cette invitation avec les autres membres de votre club, en les incitant à saisir cette chance de participer à quelque chose de vraiment extraordinaire.
Alors que nous comptons les jours qui nous séparent de cet événement remarquable, embrassons l'esprit d'unité, d'espoir et de service qu'incarne le Rotary. Ensemble, nous ferons de la Conférence de District 2024 une célébration de nos efforts collectifs et une opportunité de tracer la voie vers un avenir encore plus radieux.
Bien à vous au Rotary,
Brian A Glasgow
Gouverneur de District – District 7030  du Rotary